DataLaneExpress Logo
Puget Sound Fishing
Trolling or jigging for that elusive Puget Sound Salmon is what "Life in Des Moines" is all about. Whether you are trying to catch that big 30 pound Wild King Salmon or that beautiful Bright Silver it is definitely a rush. We have many days of fishing, in the spring and summer there is the Chinook run and fall brings the Sockeye, Coho, Chums and Pinks. But wait the year is not over in the winter there is the Winter Blackmouth. But don't get in trouble check below for the fishing regulations for the right times to drop your line.
Thank you for visiting DataLaneExpress.com
Marsha Lane the Captain of the "Express"
"Catch a Big One!"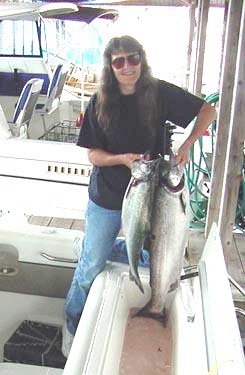 **Fishing Reports**
Click to view the WeekEnder Report
Arrow down to South Sound/Olympic Peninsula from the Washington Dept. of Fish and Wildlife.
Click to view the Puget Sound Creel Reports
Select S for South Puget Sound Sport Fishing Results
from the Washington Dept. of Fish and Wildlife. It reports the catch for local ramps and piers.

Tacoma - Vashon Island, Washington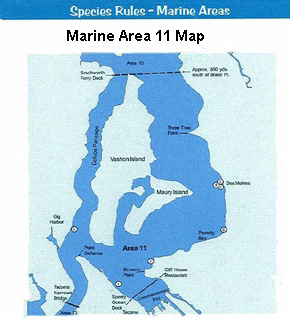 Click to enlarge.
Today's Forecasts
How is the weather in Des Moines?
Click to view Current Weather.

Coastal Marine Forecast for the Puget Sound & Hood Canal
Click to view the 5-Day Wind Forecast.

How windy is it?
Click to view the Current Wind Forecast.

Be a safe boater! Know what to expect.
Click to view the Zone Weather Forecast.

Do you fish the tides?
Click to view the Tide Changes.

Can the fish see your line?
Click to view Sunrise and Sunsets
Sport Fishing Rules
What can we fish for today?
Click and go to Page 121 to view the Species Rules for the "Des Moines" Area

Is Crabbing season Open or Closed?
Click to view Shellfish Regulations for the "Des Moines" Area 11

Emergency Rules for Des Moines?
Click to view the Rules currently in effect for Area 11

They keep changing the rules.
Click to view All Regulation Changes for All Areas


What's Cooking?
Check out some Great Salmon Recipes.

Fettuccine with Salmon Sauce

Italian-Style Salmon Steaks


Send Email to DataLaneExpress to post your favorite recipe.
Copyright © 2003 - 2017 DataLaneExpress
All rights reserved. *All trademarks are the sole property of their respective owners.